Apple TV vs Airtame
With several wireless streaming devices on the market, how do you know which one to buy? Check our overview of cableless HDMI devices – here we focus on Apple TV vs Airtame. Keep reading to learn which device is right for your needs.
What's the difference between an Apple TV and an Airtame? We often get this question from companies and schools and want to give a fair comparison between the two. They're both wireless devices that offer streaming between a computer or mobile device to screens and projectors with HDMI ports. However, while Apple TV is meant for at-home entertainment use, Airtame is designed for schools and businesses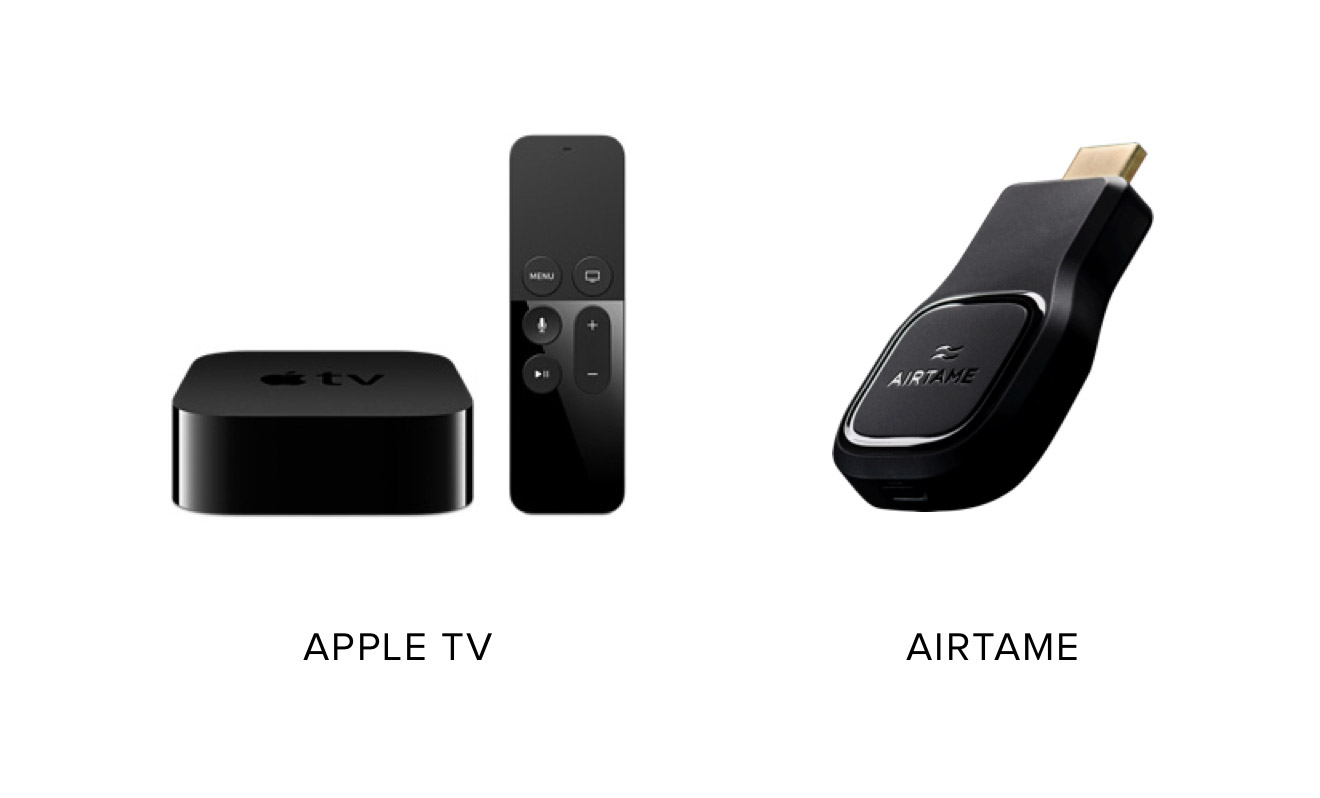 Highlights
If you want a device agnostic option for your school or business that lets you stream wirelessly, Airtame is the Apple TV alternative for your needs.
If you only own Apple devices and want to easily watch movies and entertainment at home, you should consider the Apple TV.
Oh, by the way, we're always happy to tell you more about Airtame.
Let's find a time to talk ☎️.
Apple TV for home, Airtame for school and work
The major difference between Apple TV and Airtame is that Airtame is intended for collaborative work at schools and offices, while Apple TV is made for watching TV shows and sharing personal media at home.
Let's look at some of the features that highlight this difference side by side:
Apple-centric vs Device agnostic
For the most part, Apple TV favors Apple products. For example, the AirPlay function lets you mirror the screen of your Macbook or iOS device to an Apple TV. Apple has chosen to restrict this AirPlay function to work only with Apple devices. This limits the use of the Apple TV in BYOD environments where a range of different operating systems are in use. There do exist some third party software, such as AirParrot that allow non-Apple devices, such as a Windows PC, to mirror to an Apple TV using AirPlay. However, you have to purchase licenses for this software on each computer, which can add up.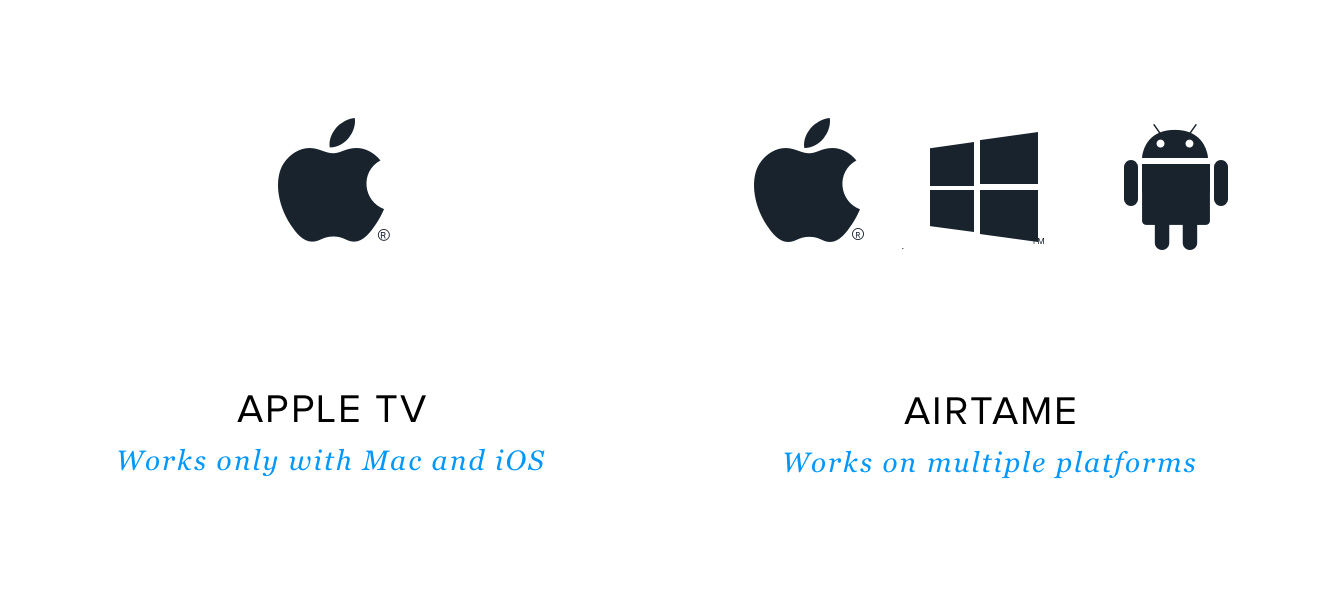 Airtame is device agnostic, meaning it does not favor any single platform so it's BYOD friendly. Using only software and your computer's existing WiFi connection, Airtame mirrors the screen of your laptop and lets you present from your mobile device. Airtame works with Mac, Windows, and Linux computers to show all your apps and presentations wirelessly. Android users can stream presentations, PDFs, Office documents and images with the Airtame mobile app available for both Android and iOS. After Airtame 3.1, you can also use AirPlay iOS mirroring to mirror your iPads and iPhones to an Airtame-enabled screen. As stated in Airtame's product roadmap, Airtame also plans to develop Android mirroring in the future.
Apps vs Dashboards
Apple TV focuses heavily on apps that aim to replace traditional TV and movies. When you turn the Apple TV on, you will see Apple's classic wall of app icons. From the apps, Apple TV can access your media subscriptions and play your favorite shows and movies on your TV. This makes it clear that the Apple TV is made for watching shows and other personal entertainment at home.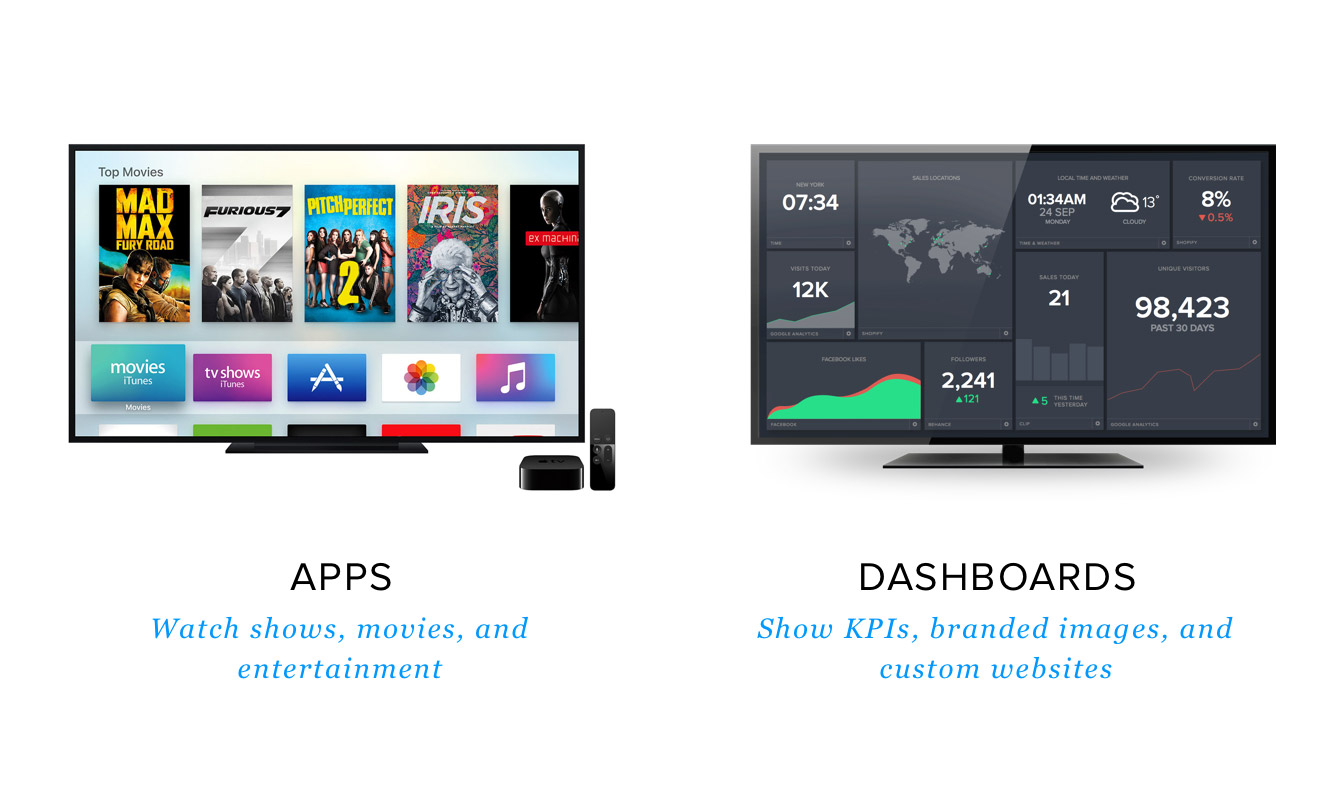 With Airtame's customizable Homescreen, you can display an image, website, or dashboard on a TV without the need for additional hardware. Homescreen also allows for an easy and intuitive overview of all your Airtame devices. This gives the Airtame Homescreen a practical use. It is a digital signage solution that's useful for a range of different needs. For example, you can show upcoming events, a meeting room calendar, or important data that you and your team need to track.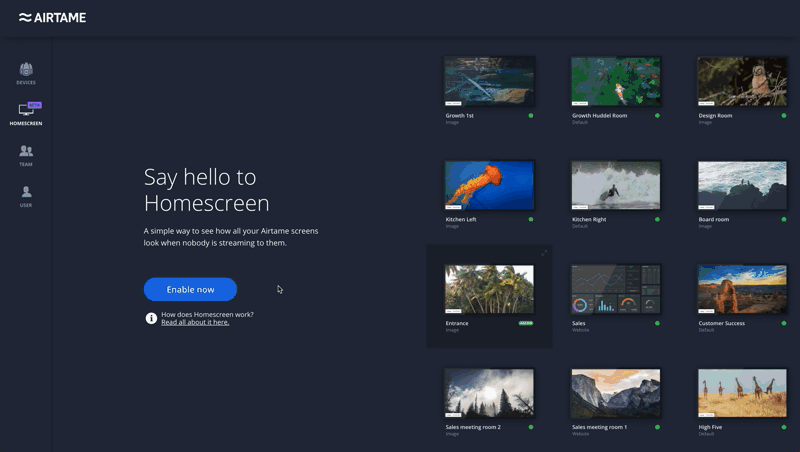 Home network vs Corporate network
Apple TV and Airtame both support WPA2 Enterprise networks. Apple TV, however, doesn't work with networks that have multicast or DIAL disabled for performance and security reasons. That's because having these disabled means that streaming devices are not able to broadcast themselves on the network, letting other devices find them.
Airtame, however, works around this issue by letting you connect your computer screen to your TV by typing in the Airtame device's IP address, which is always shown on the TV screen. Note that to use AirPlay iOS mirroring with Airtame, however, you will need Multicast enabled.
Apple TV in education
After talking with hundreds of district leaders and IT administrators, we've learned of a trend to use Apple TV in education, which could be due to the widespread familiarity with Apple's brand, as well as Apple TV's relatively low price. However, we've also seen that problems start to arise when students and teachers use a mix of devices, like Windows or Android, in their classrooms.
We've researched what classrooms and meeting rooms need and designed Airtame with these features in mind. That's why Airtame supports a wide range of platforms, like you'd find in a BYOD environment. Airtame is also optimized to work with enterprise grade networks that are set up for high security and performance, like Eduroam. And unlike Apple TV, Airtame offers Airtame Cloud, a free cloud-based tool for monitoring and managing multiple devices remotely. With Airtame Cloud, you can change device settings in batches, as well as update and reboot multiple devices at once.
Bottom line
Airtame and Apple TV are two different technologies for different uses.
If you want to conveniently stream movies and other entertainment media and you own Apple products, the safe choice is Apple TV. If you're looking for an Apple TV alternative for professional work, Airtame is the wireless solution designed for your classrooms and offices. It has professional features, such as cloud-based remote device management, easy integration with secure corporate networks, and a Homescreen that doubles as light digital signage to name a few.
More Airtame comparison articles: