Chromecast vs Airtame
With several wireless streaming devices on the market, how do you know which one to buy? Here we focus on Chromecast vs Airtame. Learn which device is right for your needs.
So, what's the difference between a Google Chromecast and an Airtame? We get this question frequently and want to give a fair comparison between the two.
They're both wireless devices that offer streaming between a computer or mobile device to screens and projectors with HDMI ports. How each device accomplishes this and for what purpose, however, is the key difference.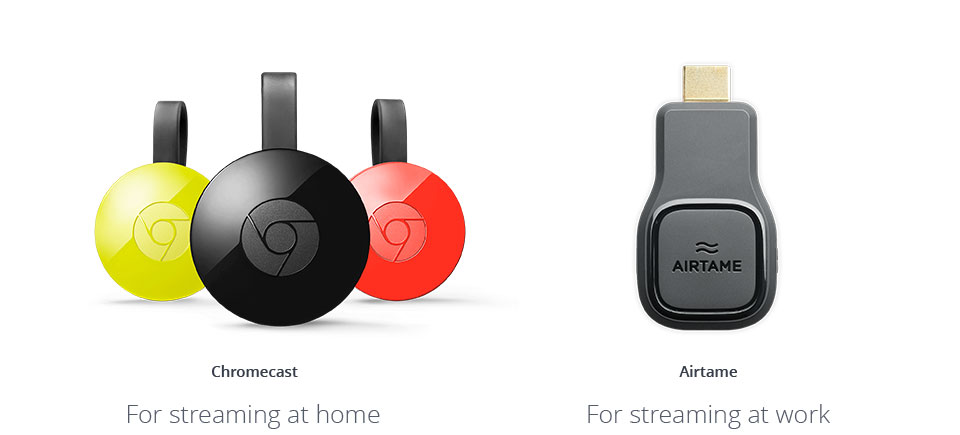 Highlights
Airtame works with WPA2 Enterprise networks and in environments using two separate networks. Chromecast lets guests at home stream without connecting to your home WiFi.
Airtame offers a free platform for managing an unlimited number of devices from the Cloud. Chromecast does not offer a device management tool.
Chromecast can only be managed one-to-one on the local network. Airtame can be managed in bulk and via the Cloud from remote.
Airtame does 2-click screen mirroring from a computer app that works on any device. Chromecast does 6-clicks desktop casting through the Chrome browser.
If you want to easily watch movies and entertainment at home, you should buy a Chromecast.
If you want a streaming solution optimized for your professional needs, Airtame is the Chromecast alternative for businesses and schools.
Oh, by the way, we're always happy to tell you more about Airtame.
Let's find a time to talk ☎️.
Chromecast for home, Airtame for work
The major difference between Chromecast and Airtame is that Airtame is optimized for meetings and other collaborative work at schools and offices, while Chromecast is made for watching TV shows and sharing media at home.
Let's look at some of the features that highlight this difference side by side:
Home networks vs corporate networks
There is a big difference between how WiFi networks work at home and in a corporate setting. It affects how you can use each device.
WPA2 Personal vs Enterprise
Airtame offers support for both WPA Personal and WPA2 Enterprise networks that require both username and passwords. The latter is often used in bigger companies, educational institutions, and hotels. Chromecast doesn't offer WPA2 Enterprise support.
To connect to a network, both Airtame and Chromecast broadcast themselves to the network. Many businesses and schools block any kind of broadcasting (such as multicast and DIAL) for security reasons.
Airtame works around this issue by letting you type in the device's IP address to connect, which is displayed on the TV screen at all times. As of yet, Chromecast does not have a solution for this.
Ethernet
WiFi connections can be unstable, especially when a lot of users are connected to the same network. To solve this issue, both Airtame and Chromecast have an ethernet option, in case a WiFi connection is not available.
Connect with an ethernet cable by plugging an ethernet adapter into Airtame's micro USB port. For Chromecast, connect with Google's Ethernet Adapter for Chromecast.
Casting vs mirroring
Chromecast and Airtame use two different technologies that can be difficult to tell apart at first glance. The key takeaway is: Chromecast takes content from the internet (called casting) and Airtame takes content from your computer's screen (called mirroring) .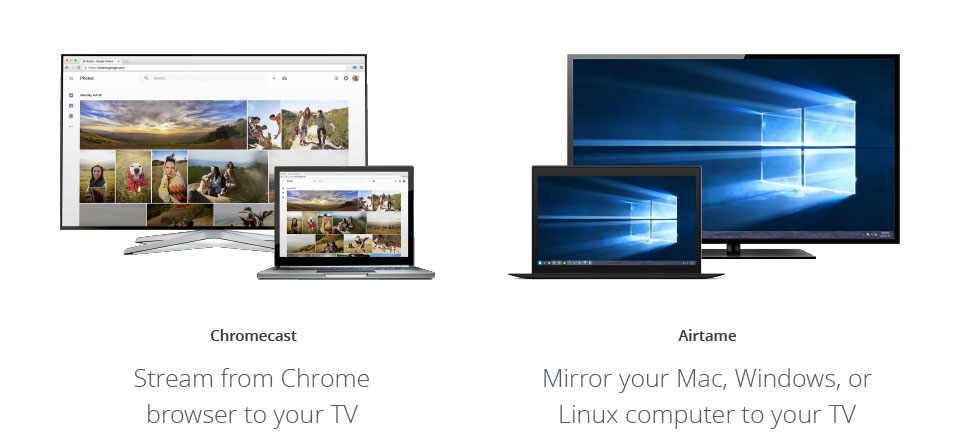 With the Chrome browser and the Chromecast app installed on your computer, the Chromecast device can pull content from your online media subscriptions ( e.g., Netflix, HBO, and more) and cast it to the TV.
The benefit is you can use your computer or smartphone for other things as soon as you have started the stream on your TV, since it's not taking any local content from your computer or tablet. And because Chromecast primarily does media streaming, they can offer the Chromecast Ultra with 4K streaming, rather than Full HD, which is the maximum streaming resolution most casting devices have available.
Desktop casting on Chromecast is a feature that was previously in beta mode, but is now available through the Chrome browser. This means Chromecast can cast your full computer screen, so long as you have the Chrome browser installed on your computer. Note that casting is not available at 4K with Chromecast, but is downscaled to 1080p.
Airtame has always offered full screen mirroring from Mac, Windows, Linux, and Chromebook. The Airtame software captures your entire computer screen and sends it to the Airtame device over your WiFi network. The benefit of mirroring through the Airtame software is that it takes 2 clicks to start a stream and because mirroring is its primary use, the device is optimized for stability and user friendliness. For a lot of people running native software, such as Excel, Powerpoint, and Photoshop, mirroring is a must-have.
In terms of clicks, it is quicker to get up and running with Airtame, rather than Chromecast:
Chromecast number of clicks to start casting:
1: Open chrome / 2: Settings / Menu / 3: Cast / 4: Drop-down / 5: Cast Desktop / 6: Choose device

Airtame number of clicks to start mirroring:
1: Open Airtame app / 2: Click "Start" next to chosen device
For more information on the difference between mirroring, casting, and streaming, check out our article on How Screen Mirroring Works.
Chromecast backdrop vs Airtame Homescreen
What about when you're not streaming? Luckily, both devices have alternatives to a blank TV screen.
With Airtame's Homescreen, you can customize the background of the TV when there is no one streaming to Airtame. You can use Airtame's dashboard feature to display custom images, websites, or KPI dashboards, like Klipfolio and Strea.ma. You can also switch between 4 different overlays, Guide, Guide left, Minimal, and None. The Guide overlays show customizable text that guides new users on how to connect to the TV. This makes Airtame a great digital signage alternative.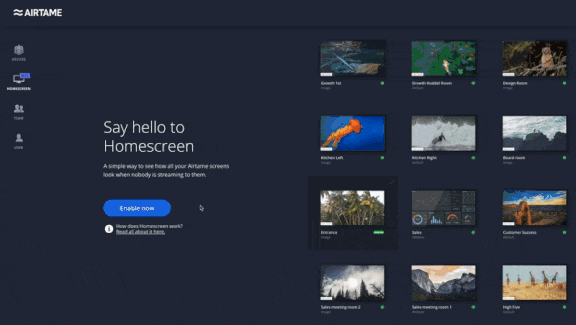 When the Chromecast device is idle, you can set a backdrop to show personal photos, news, art, satellite images, and weather. The advantages are that the default images are quite eye-catching, plus you can sync your Google+ photo albums. The drawback is that there is not much room for customization of the content that appears.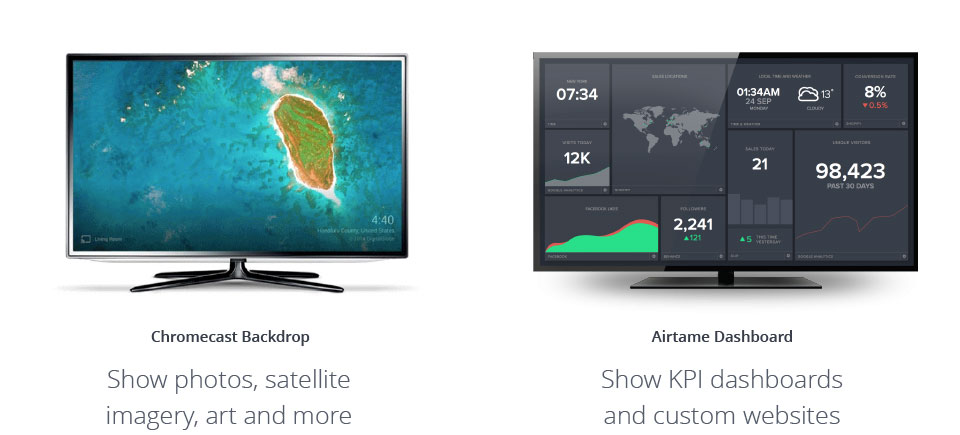 Managing multiple devices
If you're using wireless devices across a large office building or campus, you need an easy way to manage all your devices remotely.
Currently, Chromecast does not offer any type of device management, since it is not likely that home users would have a large quantity of Chromecasts in one household.
Organizations, on the other hand, could potentially have hundreds of wireless devices installed in their TVs and projectors. This is why Airtame offers Airtame Cloud, a free device management platform that allows you to manage and monitor all Airtame devices. From here, you can check network connection settings, WiFi signal strength (RSSI), as well as update, reboot, and batch edit device settings for multiple devices all at once. For example, if you want to change your home screen image on multiple Airtames simultaneously, you can do this easily from Airtame Cloud.
Guest streaming
Chromecast lets you enable Guest Mode, which lets your guests cast to Chromecast without connecting to your WiFi network. If your guest is in the room, they can cast from any cast-enabled app, enter a 4-digit pin that appears on the TV, and they can connect to your TV.
With Airtame, as long as your guests are on the same network as the Airtame, they can connect to the device through the Airtame app. Networks used by schools and businesses are often a bit more complex than the average home user. If your organization has separate networks for internal and guest use, Airtame can also be incorporated into your setup in a few different ways. And if you have administrative restrictions, which mean guests or employees cannot install software on their computers, Airtame's Windows Guest app allows guests to run the Airtame app without installing.
Note that Airtame also has a function called Pin Code Connect that works similarly to Chromecast's guest mode, however, with a different intention. You can enable Pin Code Connect on Airtame, to avoid streaming to the wrong screen and to keep anyone who is not in the room from starting a stream to your Airtame. With this function turned on, Airtame will ask you to enter a unique 4-digit pin code every time you start a stream.
Mobile support
On Android, you can either cast your mobile screen using the Chromecast app or stream to the TV with any cast-enabled app. On iOS, Chromecast can only stream from certain apps that have built-in casting.
Airtame offers AirPlay iOS mirroring in public beta for full screen mirroring from iPads and iPhones and plans to develop Android mobile mirroring in the future. You can also download the mobile app for Android and iOS, which streams content through an app optimized for presentations, using your PowerPoint, Keynote, and Office documents. The presenter gets a private view of current and upcoming slides, while the audience sees only the presentation.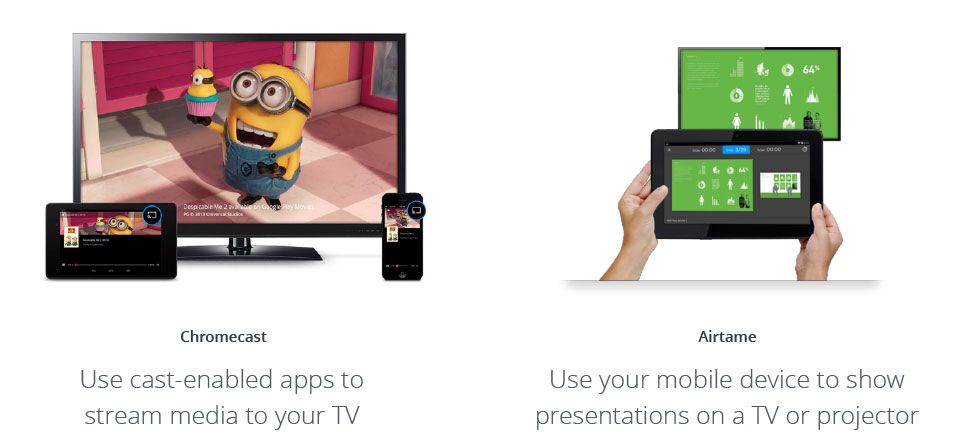 Bottom Line
Airtame and Chromecast are designed for two different uses in two different markets.
If you want to conveniently stream movies and other entertainment media, the safe choice is Chromecast. If you're looking for a Chromecast alternative for businesses and schools, Airtame is the wireless solution designed for your meeting room TVs and classroom projectors. With professional functionalities like Airtame Cloud device management and Homescreen, easy integration into secure corporate networks, and a home screen that doubles as digital signage, Airtame is the best choice for organizations.
Check out our other comparison articles:
We aim to be as objective as we can in this article to give a fair comparison between Chromecast and Airtame.