Crestron AirMedia vs Airtame
What's the difference between Airtame and Crestron's AirMedia? We get this question a lot and want to give a fair comparison between the two.
Airtame and AirMedia are both wireless devices that let you stream between a computer or mobile device to screens or projectors. In contrast to at-home wireless streaming devices, such as Chromecast or AppleTV, both Airtame and AirMedia are intended for use in businesses and schools. There are a few major differences between the two, however.
Highlights
Airtame is a more affordable solution at $299, while AirMedia has a list price of $1,500.
AirMedia works with a wired connection only, while Airtame gives you the option between WiFi and Ethernet connection.
Both Airtame and AirMedia have a customizable welcome screen. Airtame has the added flexibility of allowing this screen to display a website or dynamic dashboard.
AirMedia offers Crestron Fusion for monitoring multiple devices at an additional cost. Airtame offers Airtame Cloud, a free platform for both managing and monitoring devices.
Airtame is a smaller device that can easily hide behind a TV or projector, while AirMedia attaches to the wall or ceiling with a mounting bracket.
Oh, by the way, we're always happy to tell you more about Airtame.
Let's find a time to talk ☎️.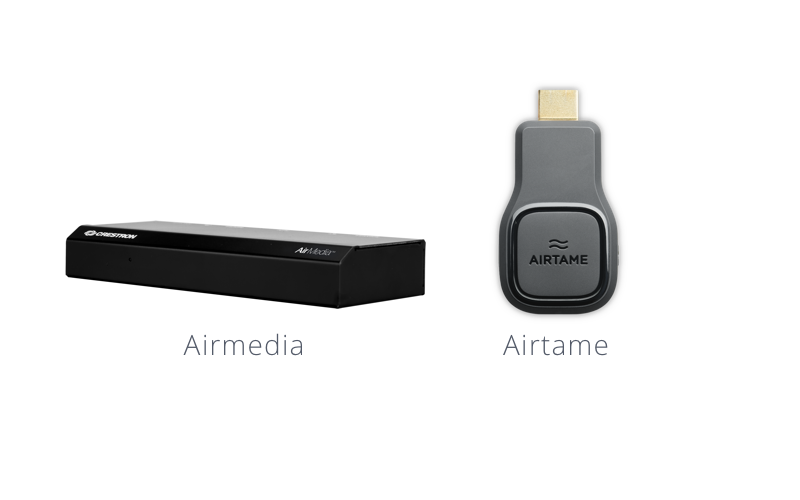 Affordable Wireless Streaming
Price is probably the most obvious difference between Airtame and AirMedia. While they are both professional solutions for wireless streaming, AirMedia carries a price tag of $1,500. Airtame is less than 1/5 of the price at $299, perfect for small and large businesses and educational institutions alike.
Supported devices
Airtame lets you mirror your entire screen from Mac, Windows, Linux, and Chromebook computers. With Airtame's AirPlay iOS mirroring capabilities, you can also mirror your iPads and iPhones. In addition, they have a mobile app for Android and iOS that lets you stream static content like PDFs and images. The nice thing about the app is you get a presenter's view, which means your audience only sees what you share and you can keep notes private.
AirMedia supports mirroring from Windows and Mac computers. Although AirMedia currently does not offer screen mirroring from mobile, they do have a presentation app available for Android and iOS. An interesting feature in their mobile app is Shot&Show, which allows you to stream a static screenshot of any app on your mobile device.
Size and setup of device
Another difference between Airtame and AirMedia is the size of the devices and the way they are installed.
AirMedia, while more compact than some other wireless B2B products, is a larger device than Airtame. AirMedia comes with a bracket you can use to mount it to a wall or ceiling and connects to the display through HDMI or VGA/analog audio outputs. Once set up, download the AirMedia app to connect to mobile devices or computers. Alternatively, the user has a choice between connecting their computer through a USB pen or a web browser if they do not want to have preinstalled software on their computers.
At half the size, the Airtame device simply plugs into the HDMI port of your TV or projector. After plugging the device into the display and powering it, download the Airtame app to your computer or mobile device or use the portable Airtame app to avoid using pre-installed software. Then, simply follow the on-screen instructions to finish connecting to Airtame.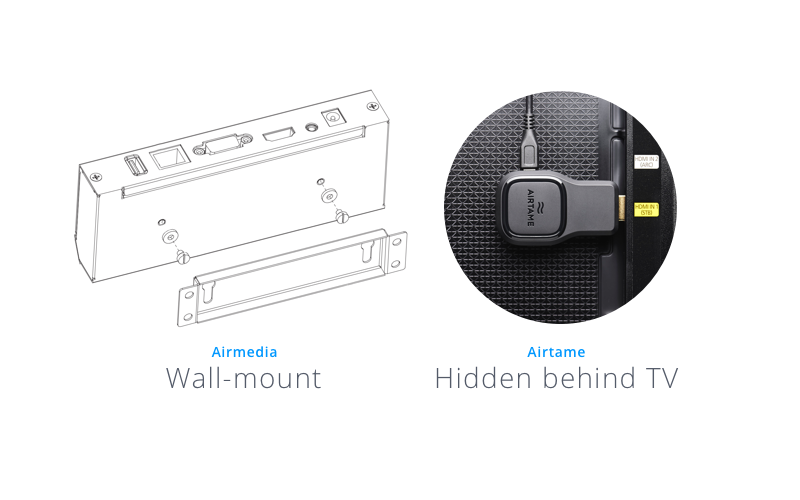 Ethernet connection or WiFi network
Both AirMedia and Airtame give you a wireless connection between the computer and display screen. How each device connects to your network, however, is a bit different.
AirMedia relies on an Ethernet connection to connect to the local network. Because of this fact, their resources and materials are geared towards IT professionals, since it's likely that only the more techy savvy crowd would handle hardwired connections, as opposed to Steve from Marketing.
Airtame can connect to your local network using either a WiFi connection or an Ethernet connection. You can connect Airtame to the WiFi network when you first set it up by giving the Airtame your WiFi network's name and password. To hardwire the Airtame with Ethernet, you can purchase an Ethernet adapter from Airtame's webshop or use a similar alternative.
Remote Management
To make things easy for your IT department, both Airtame and AirMedia give you the option to monitor your devices remotely, however, each functions in slightly different ways.
You can choose to manage AirMedia gateways by purchasing and downloading the Crestron Fusion® Management Software for a list price of $5,000 and SNMP (Simple Network Management Protocol). Crestron Fusion Cloud, which has a list price of $20,000 for a 3-year license, allows you to monitor AirMedia devices to ensure they're up and running. You can choose to host Fusion Cloud yourself, which means you can choose whether to make it accessible over the web or not. Or you can pay to have Crestron host it, meaning Fusion is available over an internet connection.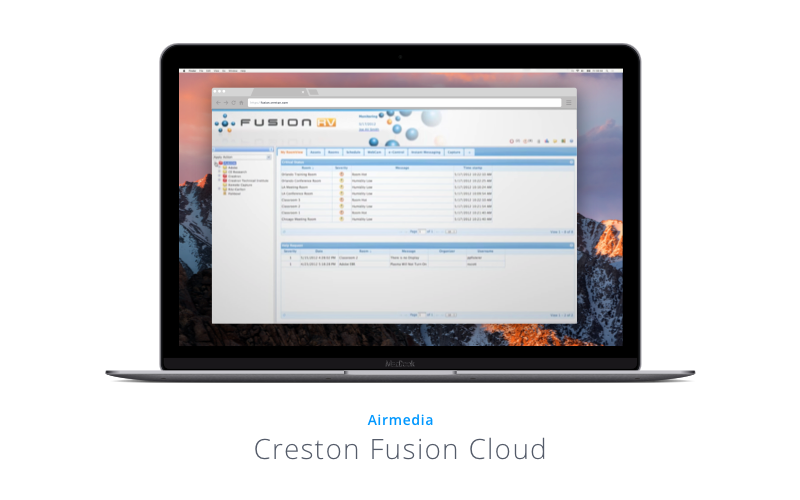 Airtame lets you both monitor and manage multiple devices through Airtame Cloud, a free-of-charge cloud-based program that doesn't require pre-installed software. With Airtame Cloud, IT personnel can view device settings, network connection settings, check the status of each device, and perform remote updates and reboots for multiple devices simultaneously. You can also organize devices by name or location, as well as customize settings for devices either individually or in bulk.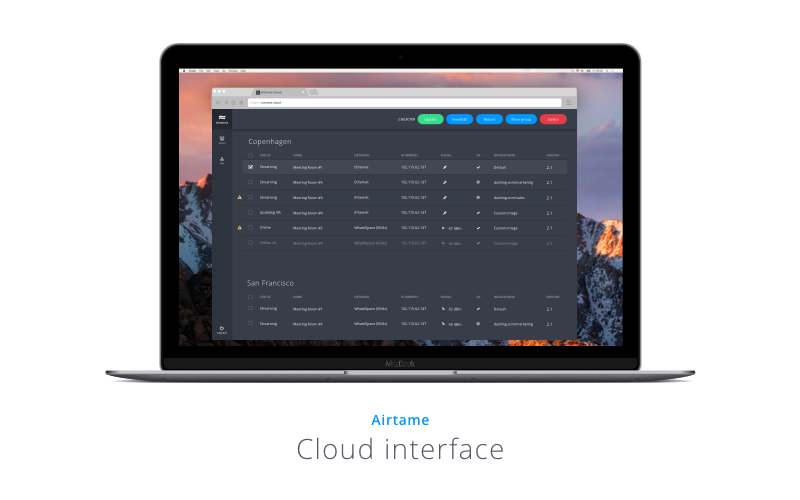 Dashboards and Welcome Screens
When you're not streaming, both Airtame and AirMedia allow you to customize a welcome screen for your device.
With the AirMedia, you can customize your welcome screen to greet guests and participants as they enter the room. Add your company logo, the room name and a set of detailed instructions to the welcome screen to get your meeting off to a friendly start.
Airtame offers a customizable background, Homescreen, that you can use as a light digital signage solution. With Homescreen, you can upload a branded image or a set of instructions with three different display modes to choose from - Guide, Guide left, Minimal, or None - so you can choose how much Airtame-related information you'd like to display. A key benefit of Homescreen is it also allows you to link to a website, a dynamic dashboard, or even a Google Slides slideshow. With Airtame Cloud, you can update your devices' backgrounds even if you are not in the same room.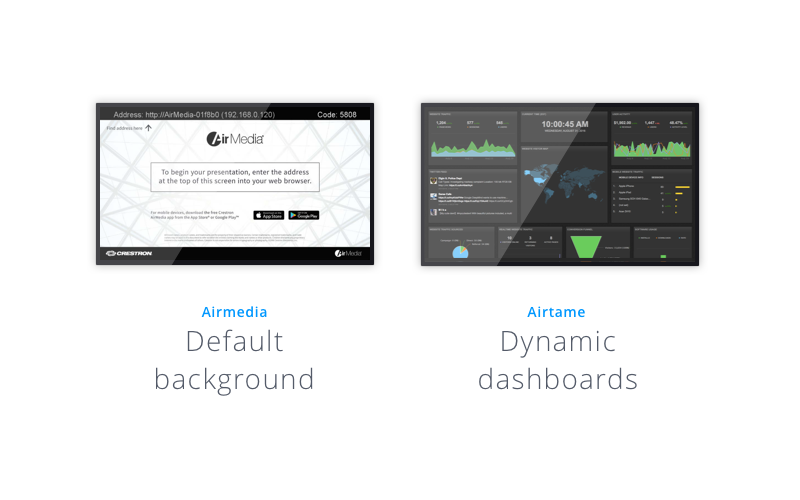 Many devices to one screen vs one device to many screens
One of AirMedia's key features is the ability to display up to four computer screens on one TV simultaneously. With up to 32 people connected to AirMedia, the main presenter can use "moderator mode" to control which content is being shared at a given time. Using the AirMedia webpage, or the Crestron touchscreen, the moderator is able to pick and choose which content to stream and where that content is positioned in the quad view. Additionally, AirMedia allows up to 40 users (either at the back of the room or in a different location) to view static images of the presentation remotely through the AirMedia website.
Airtame can stream one computer screen to multiple displays at the same time, as long as each screen has an Airtame plugged in that is connected to the same WiFi network. Seamlessly switch between presenters simply by having the current presenter press the stop button in the Airtame app. Once their stream has stopped, the next presenter is free to press the start button in their Airtame app and begin streaming to the display.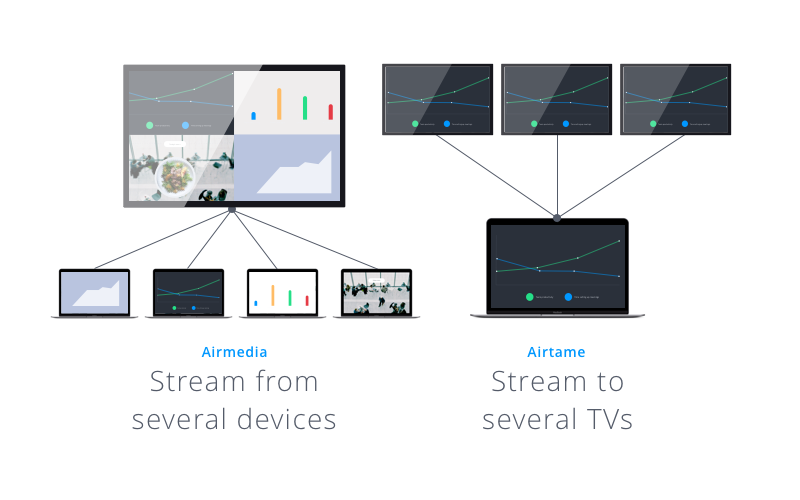 This really comes down to how you intend to use your device. If you need multiple users streaming to the same screen at the same time for comparing content side by side, AirMedia would be a better fit. Keep in mind that this feature works best with a very large display screen, because the content becomes 4 times smaller even if you are just 2 people streaming at the same time. If you're looking to stream one device to one or more screens – perhaps in a large auditorium where there are multiple projector screens – then Airtame would be a better fit for you.
For more information on each product's technical specifications, take a look at Requirements for using Airtame and Crestron's spec sheet [pdf].
Bottom Line
Crestron's AirMedia is a wireless streaming solution designed with huge enterprises in mind. The price of the AirMedia device and the costs of Crestron's additional services make it a less scalable solution and could be limiting to organizations with a tight budget. Its dependency on Ethernet also limits who can manage the AirMedia solution.
Airtame is an affordable wireless streaming solution that fits any school or business's budget whether small, medium, or large. Its flexibility with regards to how you can connect it to your network and how you can customize the background when you're not streaming make Airtame a versatile choice.
Check out our other articles:
We aim to be as objective as we can in this article to give a fair comparison between Crestron AirMedia and Airtame.