The Ethernet Adapter Guide
Do you prefer a wired network connection instead of WiFi? That shouldn't limit you to HDMI cables in order to share your computer screen to a TV or projector. We wrote this guide to help you stream wirelessly with an Ethernet connection.
It sounds backwards, doesn't it? Using a wired connection for wireless streaming! The important thing is that the connection between your computer and TV or projector is still wireless.
This guide will first cover why and when you would use an Ethernet connection. Then, we'll show you how to use a USB to Ethernet adapter with the Airtame device for wireless streaming.
Oh, by the way, we're always happy to tell you more about Airtame.
Let's find a time to talk ☎️.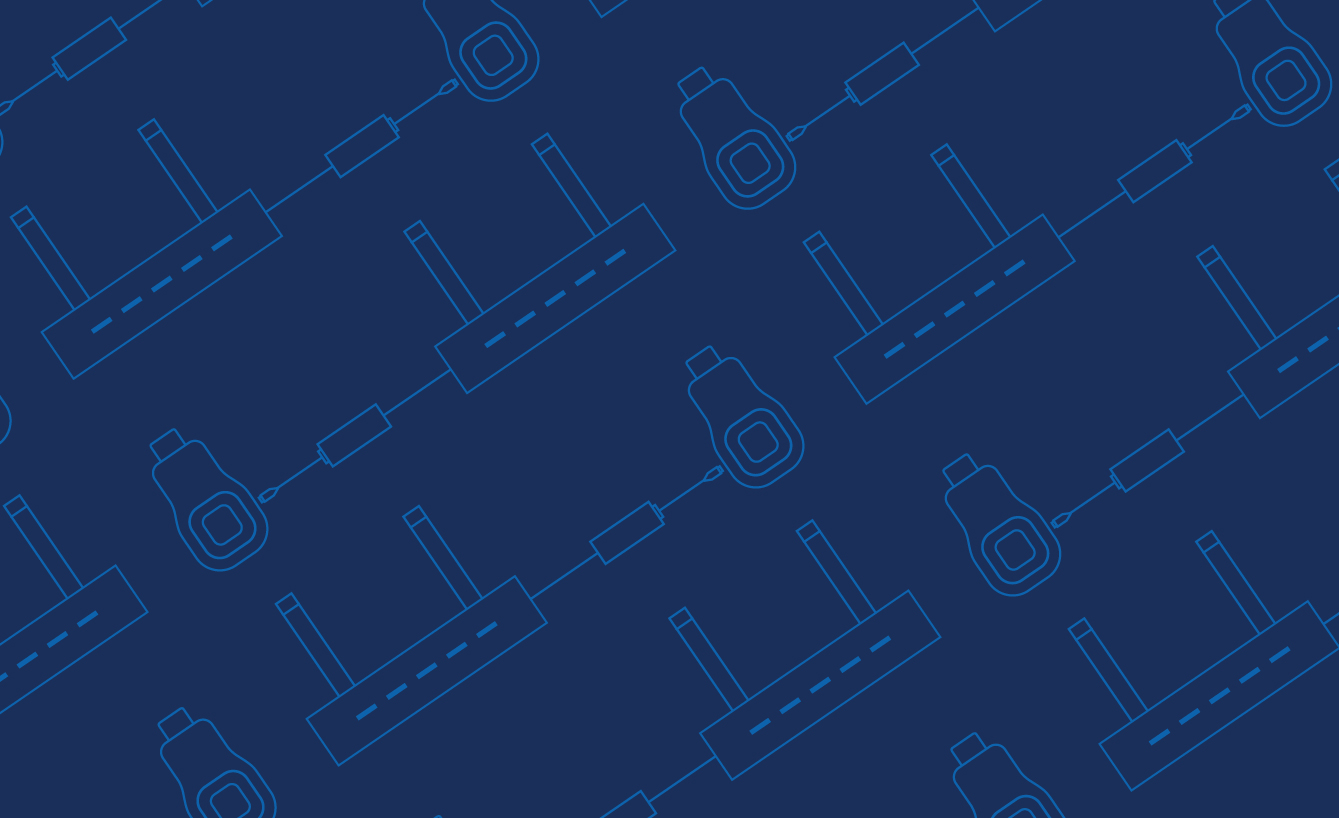 Why use an Ethernet connection?
Take it from us, we love all things wireless. But even we know that in certain situations, a cabled connection to your router is sometimes the way to go.
Less noisy WiFi networks
WiFi is everywhere and everyone uses it. But that's just the problem. With so many WiFi networks in use, the invisible waves that give us our precious internet are crashing into each other all the time.
Less data load on WiFi
Using Ethernet also means cutting the data load on the WiFi in half. It's always good practice to move heavier data traffic to a wired network. That way, the people relying on the WiFi, like employees, guests, and students, aren't slowed down.
Some extra stability
WiFi is prone to external blockers and interference, like from electronics and, yeah, even humans. This is a bigger problem for some than for others. (By the way, you can read more about this in our blog post on WiFi)
If you've had issues with your wireless connection in the past, your safest bet is to use Ethernet for a stable connection free of interference.
Higher transfer speed
Transmitting data wirelessly takes more time than with cables. Since data sometimes gets lost, the lost pieces of data need to be sent a second time, which takes even longer.
For this reason, wireless connections will always add a bit more latency than when using cables. To minimize latency, try Ethernet.
Using Ethernet adapters with Airtame
To hardwire your Airtame to your network, use an Airtame Ethernet adapter.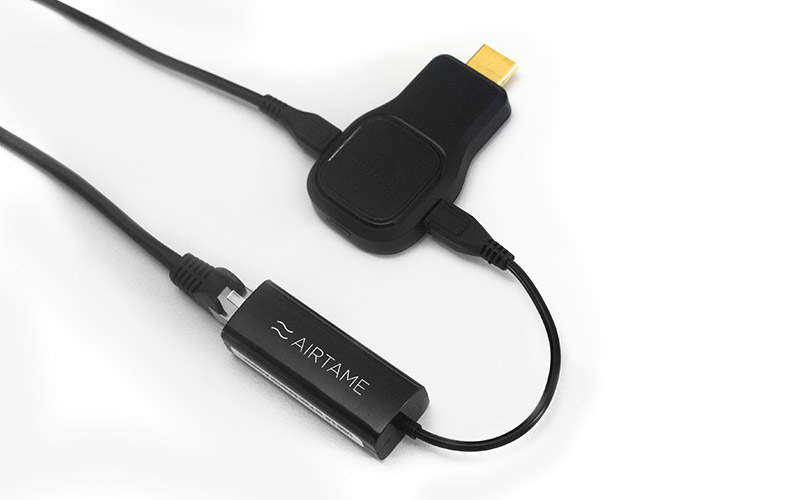 The benefits of using Ethernet with Airtame
There are some benefits to using an Ethernet connection with Airtame over WiFi.
Setup is faster
When Airtame is installed with an Ethernet adapter, it receives an IP address on the network instantly.
That means the device is configured with its name and additional settings automatically without having to connect to the Airtame's WiFi network first.
Easier management
If you have multiple Airtames, you can use Airtame Cloud to manage devices from the Cloud. If you set up your Airtames via Ethernet, this will make those devices even more reliable, since the chance of WiFi getting disconnected is gone. And when you change configurations on the device, it will stay connected to the Cloud and keep showing its status.
Want to hear more about Airtame Cloud? Take a peek here.
What Ethernet adapter works with Airtame?
We offer an Ethernet adapter that is guaranteed to work with Airtame. If you find an Ethernet adapter with similar specs, it should work, but if we haven't tested it, then we can't guarantee it works.
Specs to look for
✅ ASIX AX88772A chipset
✅ Micro USB connector
✅ Native Linux support
💡 You can even use a PoE adapter along with Airtame and an Ethernet adapter so that you can both power Airtame and provide a network connection through the same cable.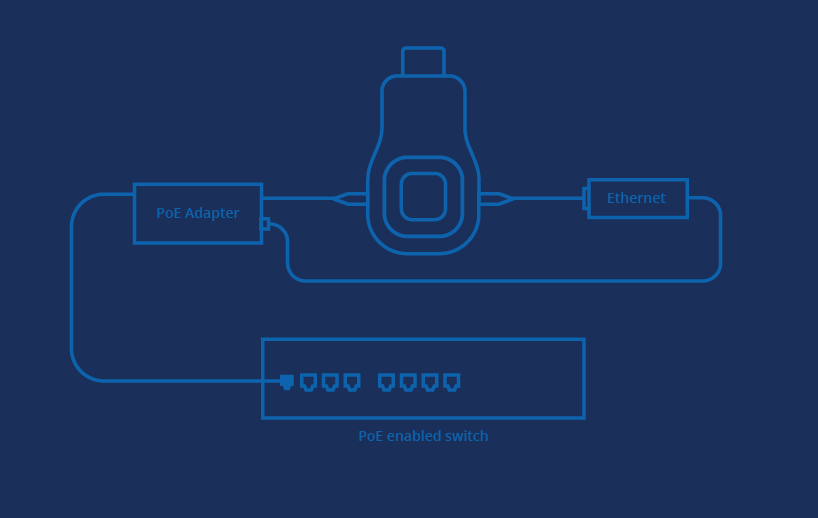 Powering Airtame with a separate PoE and Ethernet adapter
Initial setup
Many people don't realize that Airtame has a second micro-USB port. When you receive Airtame, one of these ports arrives uncovered, so that you can plug Airtame into a power source.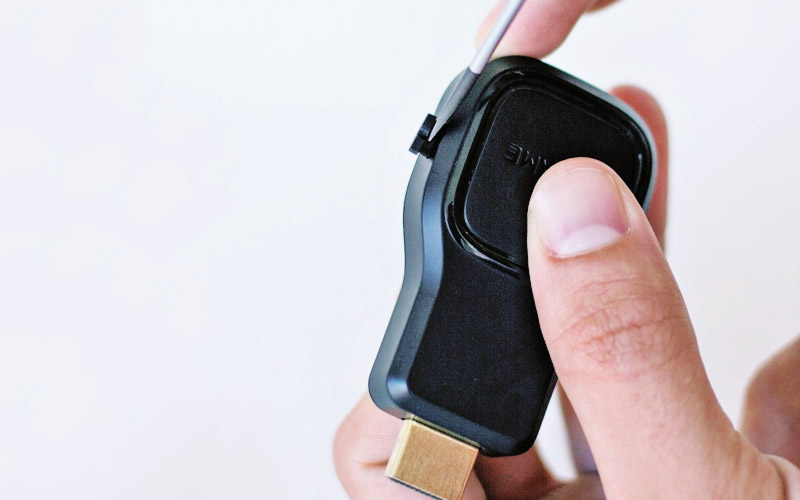 See how easy it is to set up your Airtame with an Ethernet connection in our step-by-step guide.