Kramer VIA Go vs Airtame
What's the difference between Kramer VIA Go and Airtame? To help you make the right choice for your needs, we want to give a fair comparison between the two.
Kramer VIA Go and Airtame are both wireless screen sharing solutions built for business. Although some of their features overlap, there are key differences that could be a deciding factor in which device you choose. Let's have a look at how these products compare side by side.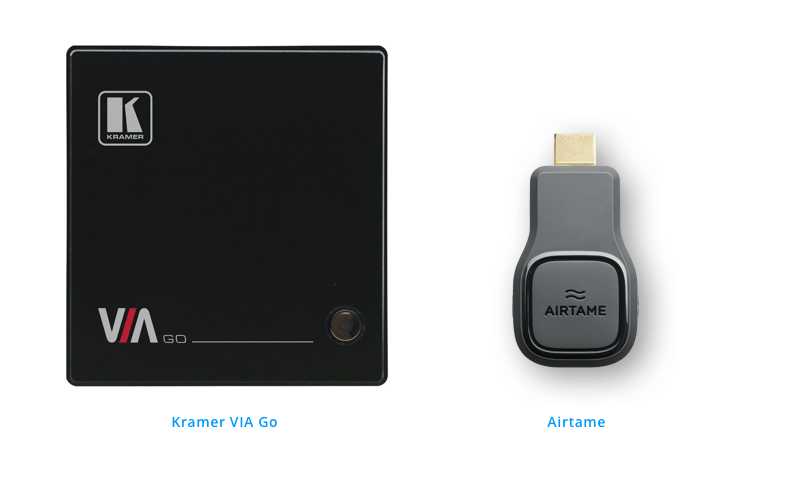 Highlights
If you want to stream wirelessly with a device that comes with a LAN port and don't mind mounting the device to the wall, you should consider the Kramer VIA Go.
If you want a simple, no-hassle device for your school or business that lets you stream and mirror wirelessly, Airtame is the highly compatible, compact, and easy-to-install option for your needs.
If you want a wireless presentation device that also offers a bunch of additional accessories for collaboration, look into how the Kramer VIA Go pairs with other Kramer products to maximize your options.
If you want a device that works with iOS, Android, Chromebook, Windows, Mac, and Linux, Airtame is the device that works with *all* of these platforms.
For Business & Education
Both the Kramer VIA Go and Airtame are wireless presentation solutions for businesses and educational environments to present information wirelessly by streaming what is on a computer, tablet, or phone. Each device connects via the HDMI port of a presentation screen or projector unit (provided the unit has an HDMI port), and requires users to download a device-specific app in order to successfully mirror their computer screens and displays with High Definition content. Both VIA Go and Airtame stream at a quality of up to 1080p, and up to 30fps under normal settings.
Box or Dongle installation
The Kramer VIA Go has no dongle, but is a small box-shaped device (4.61 x 4.21 x 1.18 inches) with an HDMI port, a mini display port on a screen/projector, and has two outgoing ports for A/C power and LAN. VIA Go mirrors images by default at 1080p at 30fps, which is handy for Powerpoint presentations and short video clips. The VIA Go also allows for 1080p60 HD streaming if you choose to send the file or link to the file to the Kramer box, which means you will have to choose the media file you want to share from your computer or paste a link, for example, Youtube, into their app.
The installation of the VIA Go is not complicated, but involves either having a shelf nearby to hold the device that is plugged in, using an intern to hold it, or wall-mounting the device using the mounting hardware included. When installing multiple units, it could require a drill and maybe a bit of skilled labor.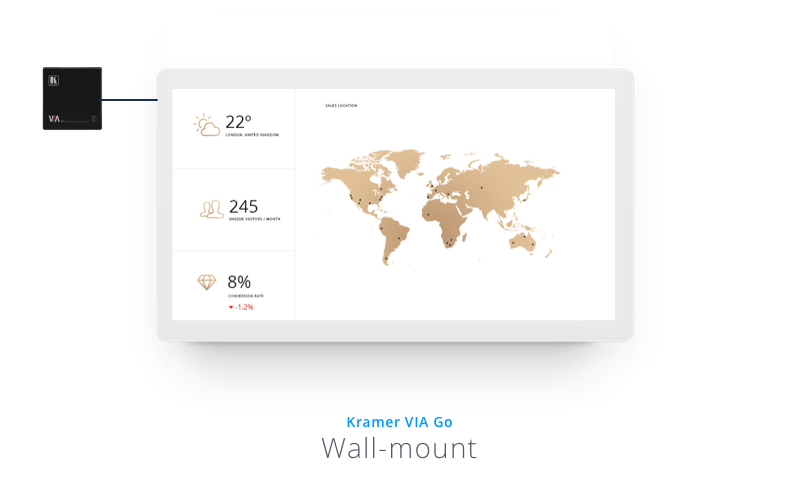 Airtame is a pocket-sized device that plugs directly into the HDMI port of a TV screen or projector, and is much smaller in size (2.9 x 1.5 x 4 inches) than the VIA Go. The Airtame comes with two ports - a micro USB port for connecting to a power source, and another micro USB port for connecting to Ethernet using the Airtame Ethernet adapter (sold separately). Airtame can stream in high definition at 1080p at 30fps or 720p at 60fps, with or without internet access.
To install Airtame, you simply plug the device into the TV or projector's HDMi port, then power the Airtame either using the USB port (provided the port can supply 1 amp of power) or an AC adapter included in the box. If you are looking for a wireless solution that pretty much stays in place once installed, the VIA Go will work. If you need more flexibility, Airtame is a less stationary option.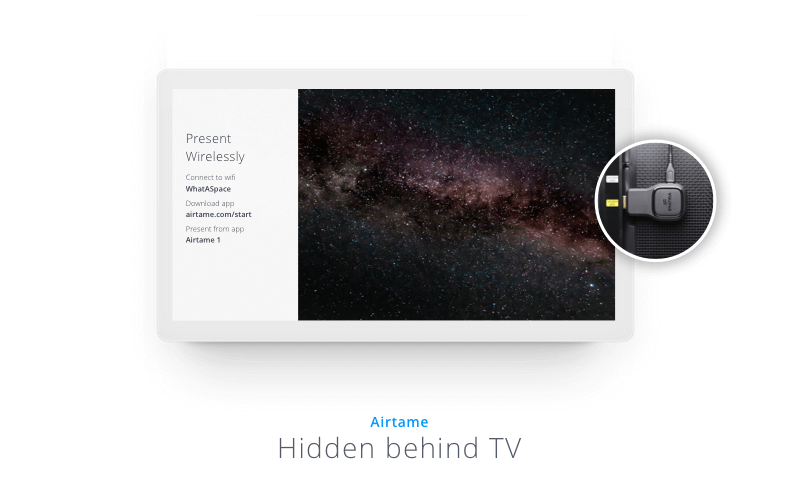 Compatibility and Sharing
Kramer VIA Go is compatible with iOS (including AirPlay), Android, Chromebook, Windows/Windows Phone, and Mac, whereas Airtame is compatible with iOS (including AirPlay), Android, Chromebook, Windows, Mac and Linux. Note that while Airtame does not currently offer Android mirroring, this feature is under development. In the meantime, you can use Airtame's mobile app to present images and slides from Android.
Kramer VIA Go allows up to two users to share their screen to one display screen at the same time. You can connect using a WiFi network, or through the unit's LAN port, which allows you to connect the unit to a wired network.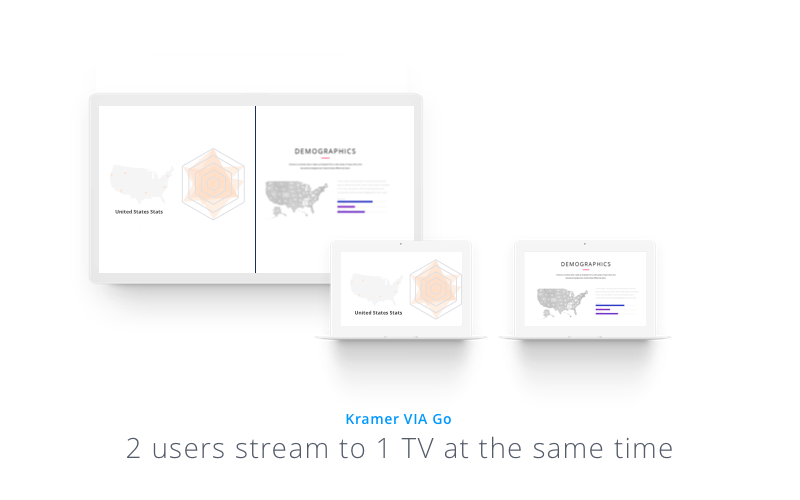 Airtame does not have an option for multiple users sharing the same display screen, but does allow you to share one computer screen to multiple display screens simultaneously. As mentioned earlier, Airtame can also connect to a wired network by using an Ethernet adapter. If accidental screen sharing is a concern for you, Airtame lets you set a pincode to start a stream.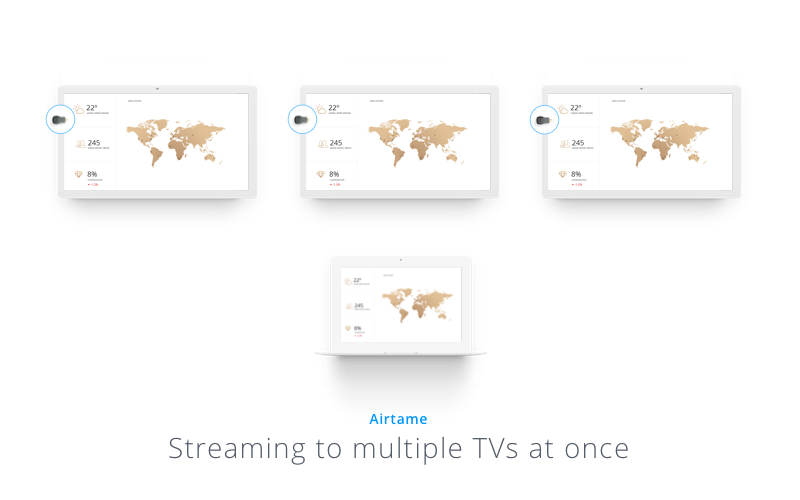 Multiple device management
Kramer's VIA Go is the most baseline device Kramer offers for wireless presenting, without all the bells and whistles of their more complex products, but for an additional cost, you can upgrade it with the other products Kramer offers. For example, it is integratable with VIA Site Management (VSM) software that allows an administrator to manage multiple gateways. This VSM software license costs about $995 for up to 10 licenses, although there are several models of the VSM license that allows for 50, 100, 500, and unlimited licenses, respectively. Updating your VIA Go devices without the VSM software would require uploading a file to each VIA Go device manually.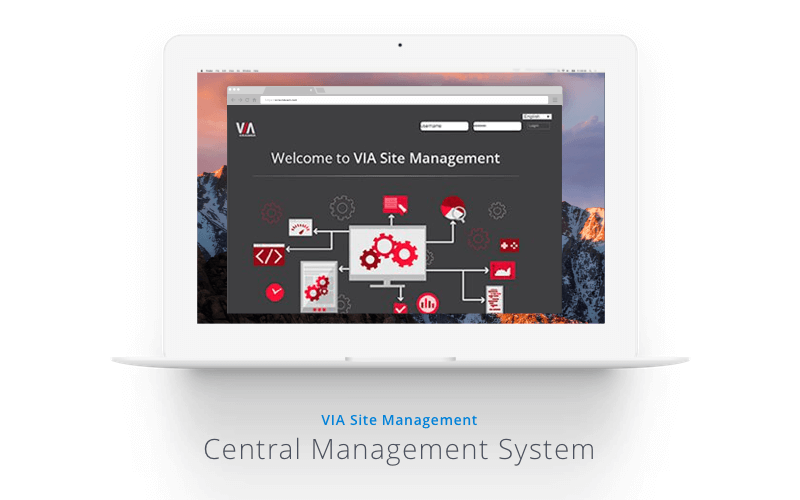 With Airtame Cloud, Airtame's free cloud-based platform, you can remotely administer all your Airtame devices from one central place. You can update or reboot multiple devices simultaneously and organize devices by name, location, or other custom categories. Airtame Cloud also lets you edit device settings for individual or multiple devices at once, such as uploading custom background images or customizing the Homescreen text. You can use Airtame Cloud for an unlimited amount of devices at no extra cost.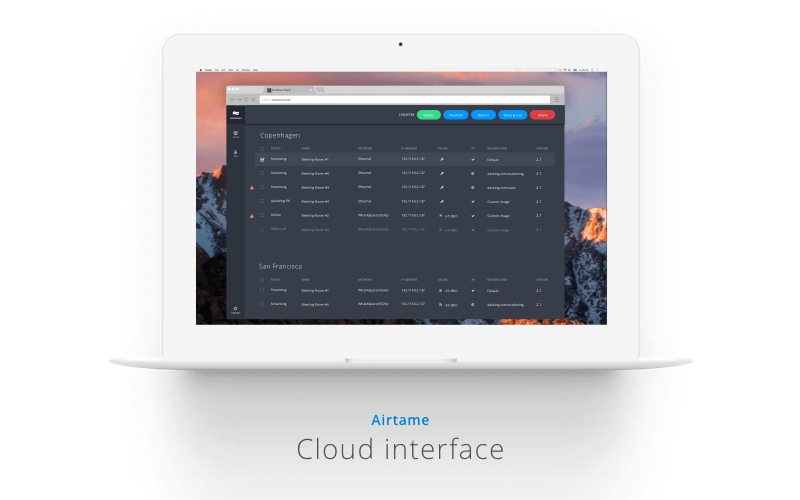 Same Goal, Some Differences
There are a few notable differences in the capability and use of these devices. One of the major differences with the Kramer VIA Go is that for additional costs, the Kramer line offers additional devices that work with the VIA Go to give users a range of collaboration features, like being able to record live meetings to share with colleagues or students who miss the presentation. Another feature that the VIA Go alone offers is two-to-one screen sharing, which allows for up to two screens to be shared at once.
The VIA Go does not work with Linux, however, whereas Airtame does. The Airtame also uses less cables, and since it plugs directly into the HDMI port, no additional wall mounting for a box is required, meaning less hardware and installation time. Being a dongle, the Airtame does not have as many ports to add on accessories as the Kramer VIA Go, but both Airtame and the VIA Go allow users to connect to an existing LAN or WiFi network.
Bottom Line
If you envision needing two users sharing their screen at the same time during your meetings or you require Android mirroring, then the VIA Go as a base device might be a better fit for your need. Keep in mind that to get the most out of VIA Go, you need to invest in additions, like the VSM software. This is because VIA Go is designed as an entry-level option within a range of Kramer products, whereas Airtame is designed to be the central device that does it all.
If your business or organization simply needs a quality, no fuss, compact device that will present your content in high definition at a one-time cost, then Airtame is your best shot. It comes at about $100 less than the Kramer VIA Go and additional features, like Cloud management are free. This makes Airtame a more flexible and affordable solution.
More Airtame comparisons:
We aim to be as objective as we can in this article to give a fair comparison between Kramer VIA Go and Airtame.