wePresent vs Airtame
With so many devices offering wireless screen sharing for businesses, we've compared two of them for you. This article takes a fair look at wePresent and Airtame to make it easier to find the device best suited to your needs.
Both Airtame and wePresent are user-friendly HDMI cable alternatives. Each are compatible with a variety of devices and operating systems across the board. Airtame and wePresent include features that make them accessible and useful for school and business settings.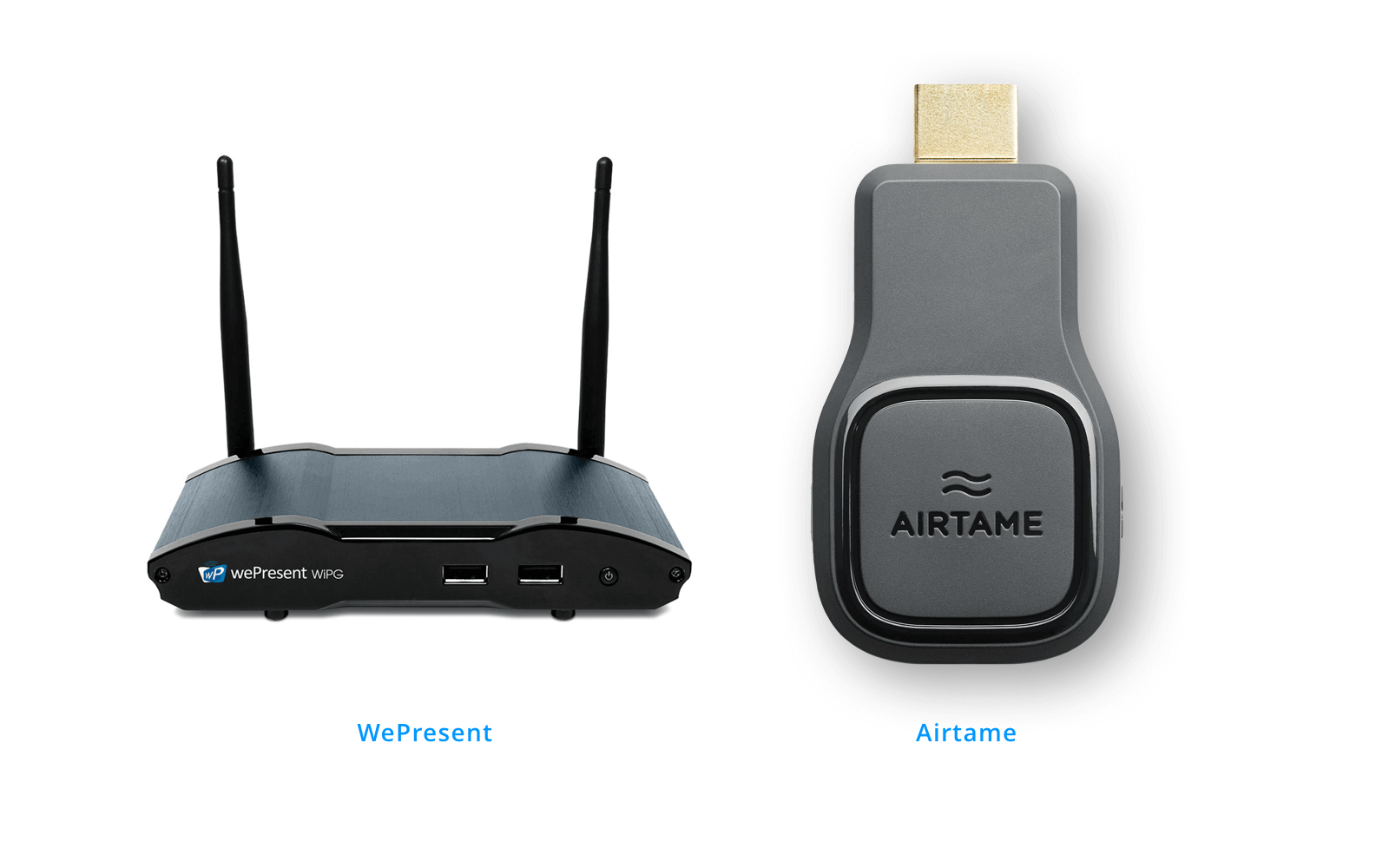 Highlights
Though they offer overlapping features, it is important to note the differences between Airtame and wePresent before deciding which is best suited for your specific needs.
The cost of wePresent ranges from $499 to $999, whereas Airtame costs $299.
Both devices offer features suited to comparing content with other users. wePresent allows up to 4 users stream to the TV, while Airtame lets you stream from one computer to multiple TV screens.
Airtame is a single, small device inserted into a TV or projector. wePresent is a larger device with a wall mount attachment.
All wePresent models can mirror from Windows, Mac, and Chromebook computers, but only the two higher-end wePresent models can mirror from iOS. Airtame is able to mirror from Windows, Mac, Linux, and Chromebook, and offers AirPlay iOS mirroring plus image sharing from Android.
With both wePresent and Airtame, you are able to create a customized background. Airtame also lets you display a website for sharing dashboards, calendars or slideshows on your Homescreen.
Oh, by the way, we're always happy to tell you more about Airtame.
Let's find a time to talk ☎️.
Price range
wePresent offers multiple options ranging from a basic presentation model to models that support interactive whiteboards. The prices for these options start at $499 and can go up to $999. With each increase in price, additional features are included to beef up the device capabilities (e.g., an interactive whiteboard & Power Over Ethernet (PoE) capacity in the WiPG-2100 model).
Airtame costs $299, almost half the price of the least expensive wePresent option. This makes it a more affordable option for many schools and businesses. The one-time cost includes new features and updates, as well as Airtame's Cloud-based device management platform. What it really comes down to is what additional features you are looking for when deciding which device is most suited towards your needs.
wePresent and Airtame for Comparing Content
You can use both wePresent and Airtame to compare content if you need to share and interact across multiple devices in a meeting.
wePresent lets you add up to 64 users in the queue, meaning there can be 64 collaborators. A designated moderator is assigned to choose which device in the queue will be shown on the screen. It also allows for up to 4 users to collaborate on and use the same screen at once, all while using different devices (laptops, smartphones, tablets.) This feature works best if you have a very large display screen that can fit this much content comfortably.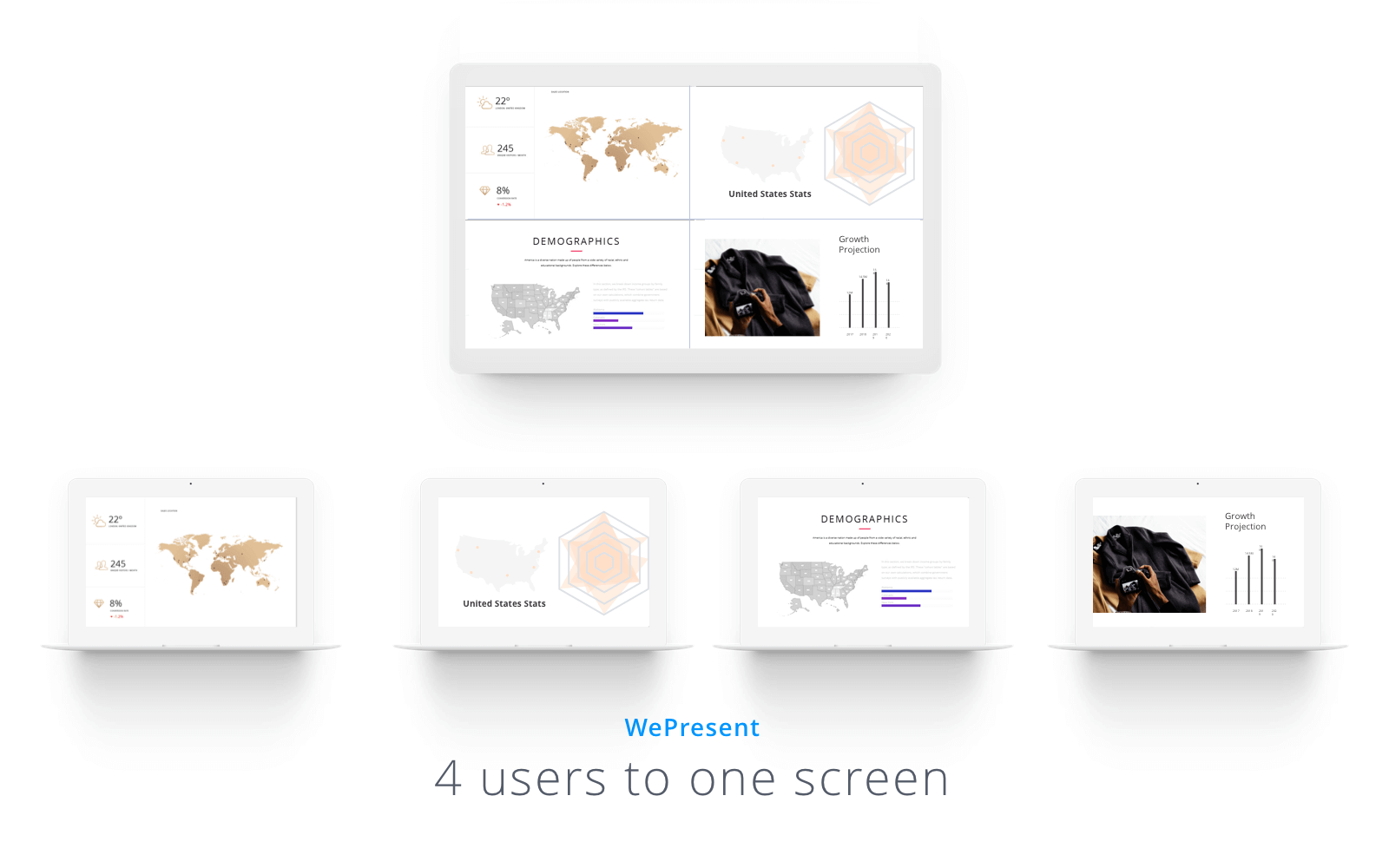 With Airtame, there is not a limit on the number of collaborators, because anyone connected to the network can stream to the TV. Although there's no moderator option with Airtame, switching between different presenters is simple. A presenter clicks "Stop" to end their stream and the next presenter then clicks "Start" to start a new stream. As a bonus, you can also mirror one computer screen to multiple TVs, which is handy if you're in an auditorium with multiple displays.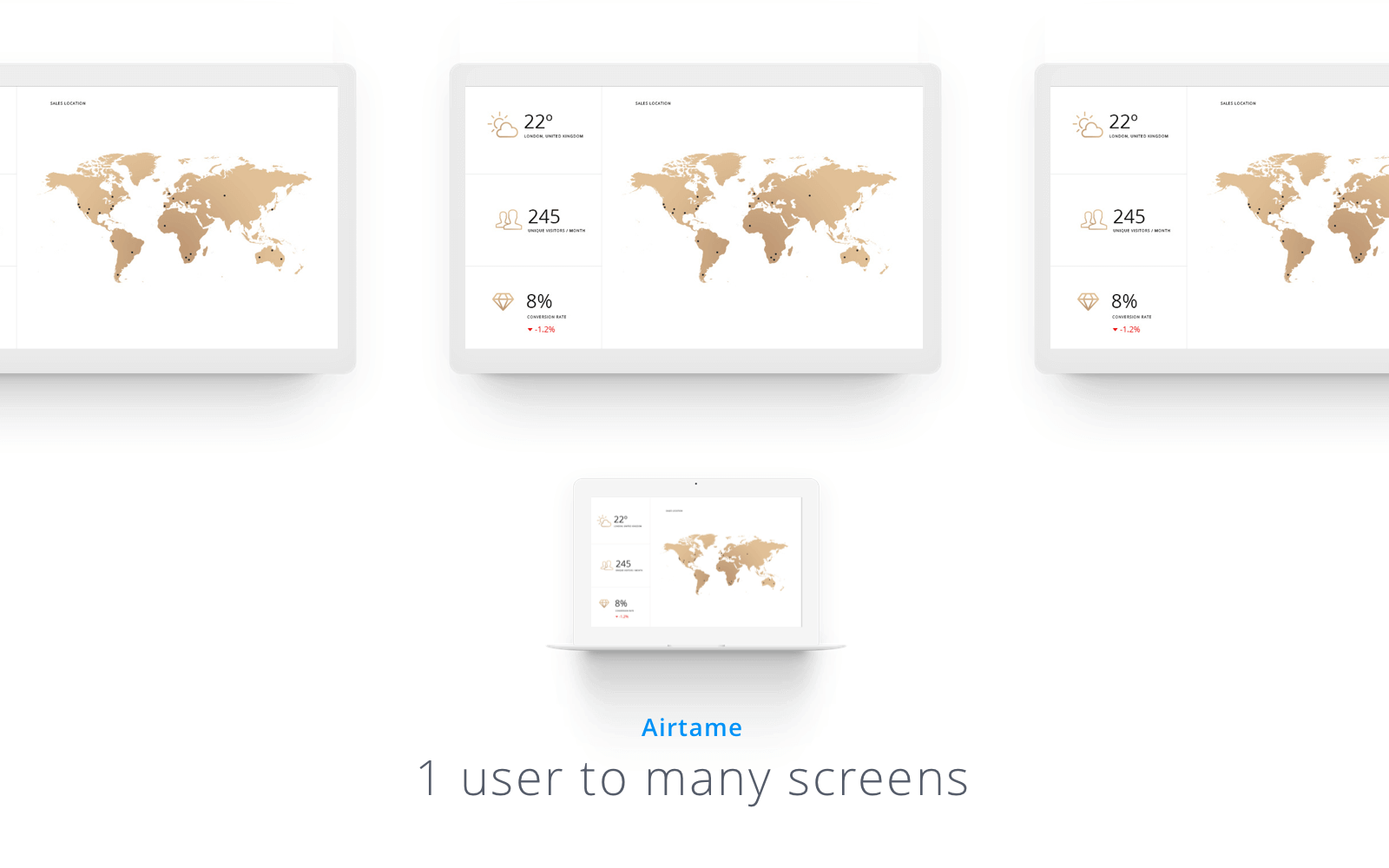 Device size and power source
wePresent is a larger device with a wall mount, which means you'll need to have a drill handy to install. It also requires an external power source. The base model, wiPG-1000, only offers power through an AC adapter. If you'd like the option for powering with Power over Ethernet, you'll need to upgrade to the wiPG-2000. Generally, wePresent is designed as a stationary solution.
Airtame has a slim design to hide behind a flat screen TV. Since Airtame is easy to transport and lightweight, it's an option for users who travel around. To install, you plug it directly into a TV screen or projector's HDMI port. To power the Airtame, you can use an external power source. Alternatively, if your TV's USB port can provide 5V 1A of power, you can power the Airtame directly from the TV. Power over Ethernet is also possible with an adapter.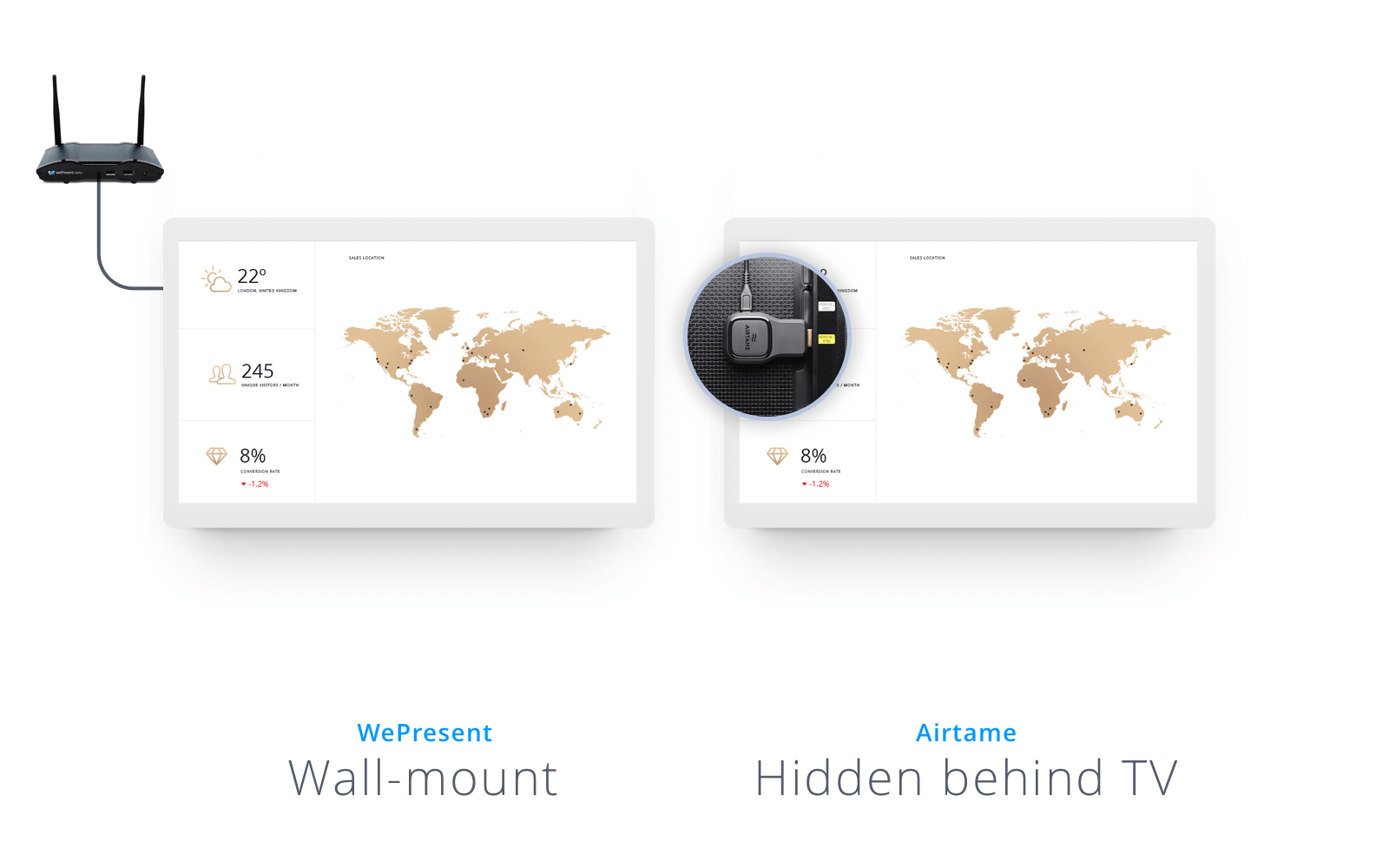 Mirroring Capabilities
Both Airtame and wePresent mirror in full HD video at 30 frames per second (fps).
wePresent supports Mac, Windows, iOS, Android, and Chrome. On higher end wePresent models, you can mirror from their MirrorOp software, including mirroring from iOS via Airplay and from Galaxy devices.
Airtame offers mirroring for Mac, Windows, Linux, Chromebook, and supports AirPlay iOS mirroring. You can also present documents and images stored on your phone or on Cloud services from Airtame's mobile app for Android and iOS. Mirroring from Android is currently under development.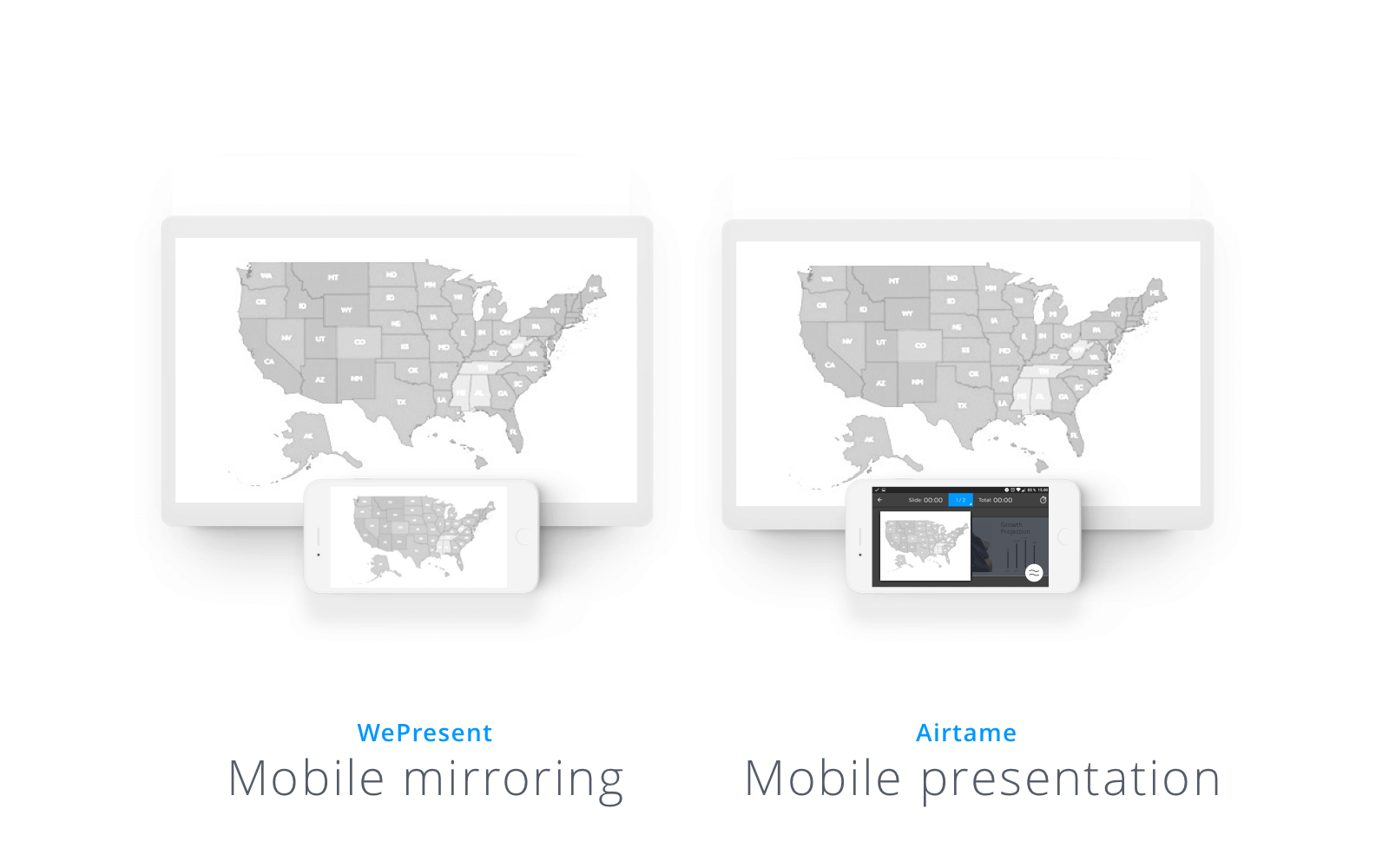 Managing multiple devices
If you need to manage multiple wePresent devices, you can use their Collaborative Management Suite (CMGS) for enterprises, which they released Spring 2017. Using CMGS, you can manage and configure wePresent devices through your network. You can also create users with different permission levels.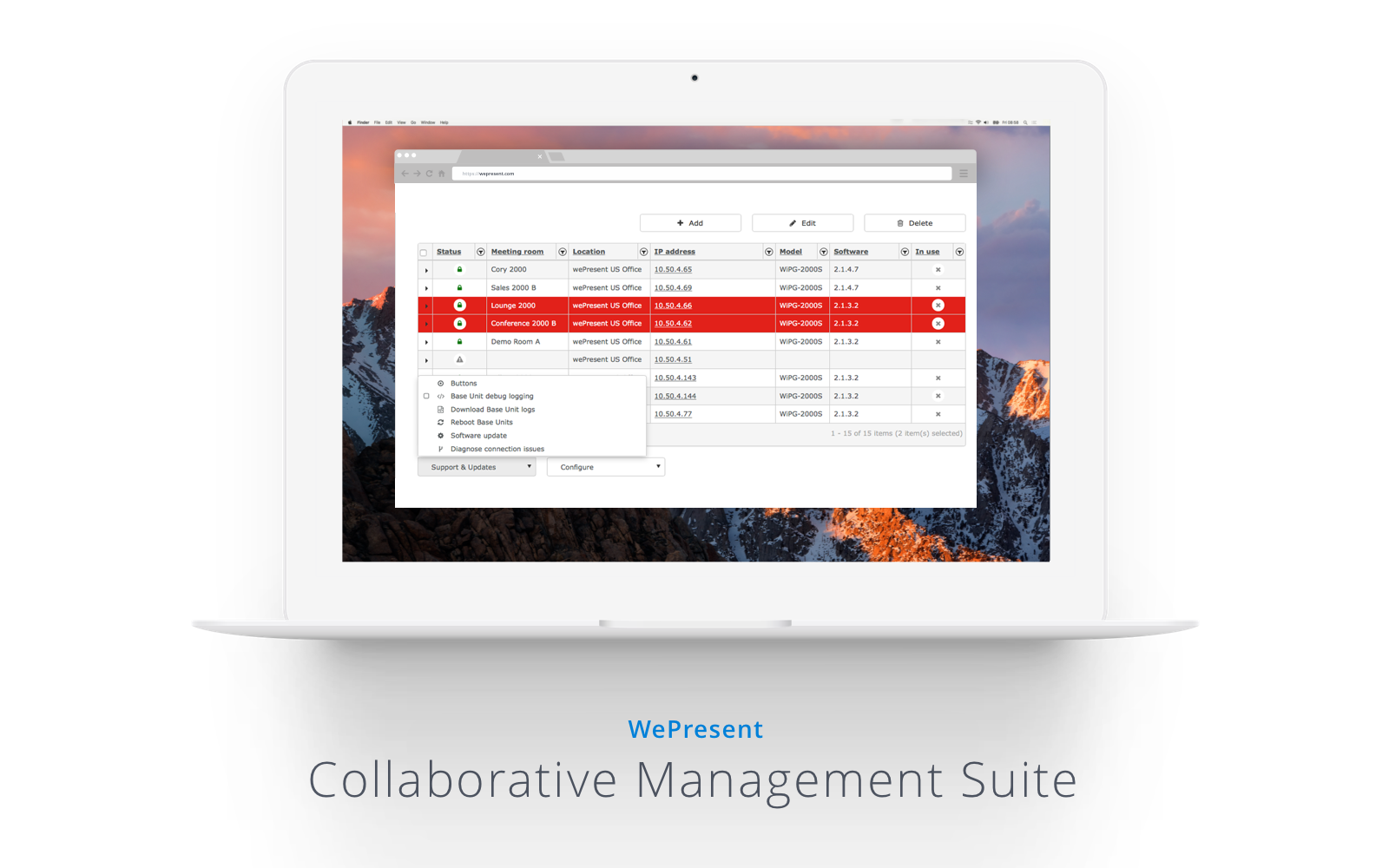 To manage multiple Airtame devices, use Airtame Cloud. It is a free cloud-based platform that lets you remotely manage and monitor devices in one central place. You can organize devices by location, name, etc., as well as update and reboot multiple devices at once. You can also edit device settings for individual devices or for many devices at once.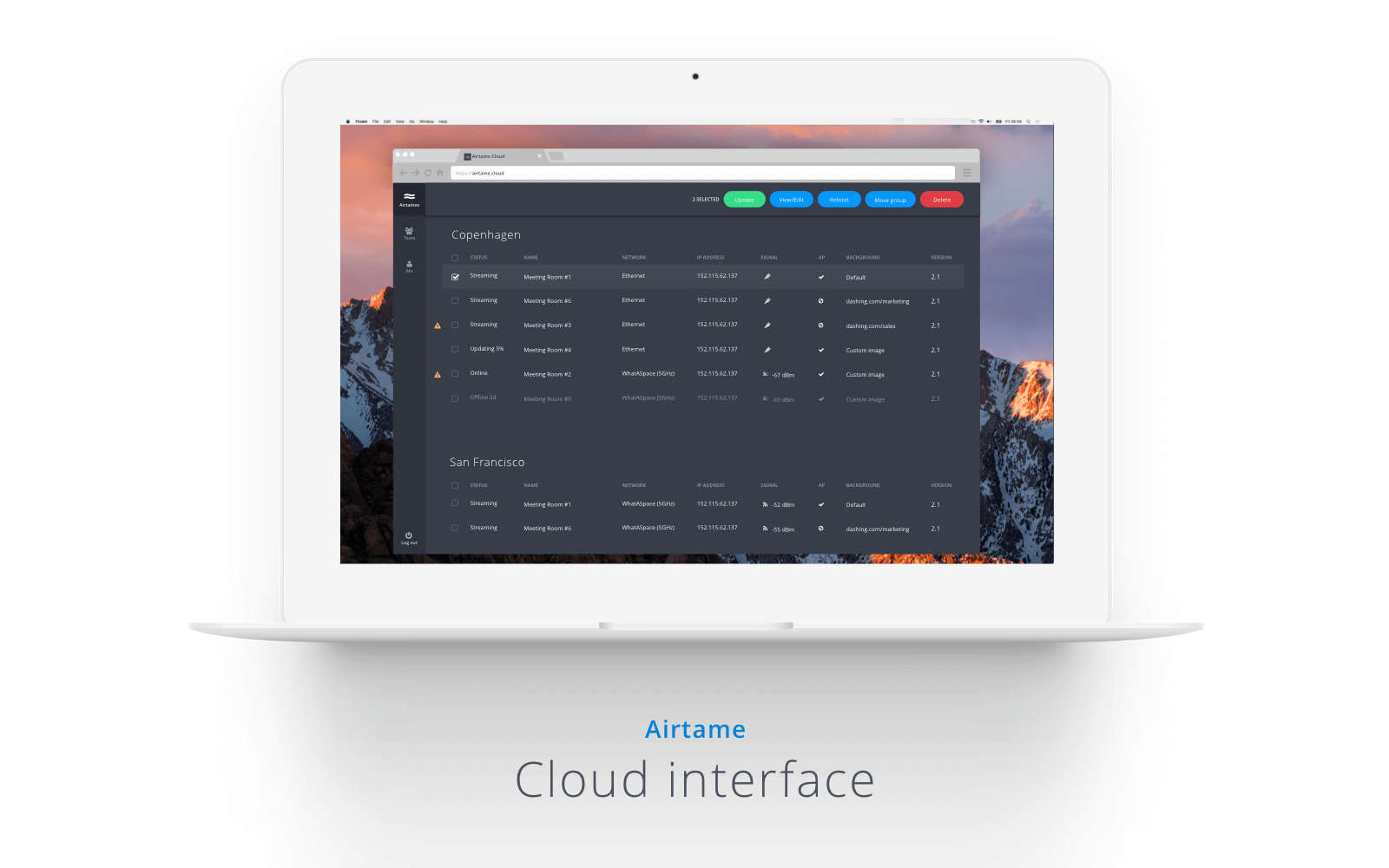 Custom backgrounds
wePresent is able to display a customized logo on the start screen. With the highest end model, you can also fully customize your start screen with your company or school's branding.
You can also display a customized logo or image on Airtame's Homescreen. On top of that, you can also use Airtame as light digital signage to display a website or KPI dashboard without extra hardware. Homescreen also lets you change between four overlays - Guide, Guide left, Minimal, and None. With the Guide and Guide left overlays, you can customize the text, as well as the color and transparency of the overlay.
(Tip: Google Slides pairs well with Airtame because it is easy digital signage.)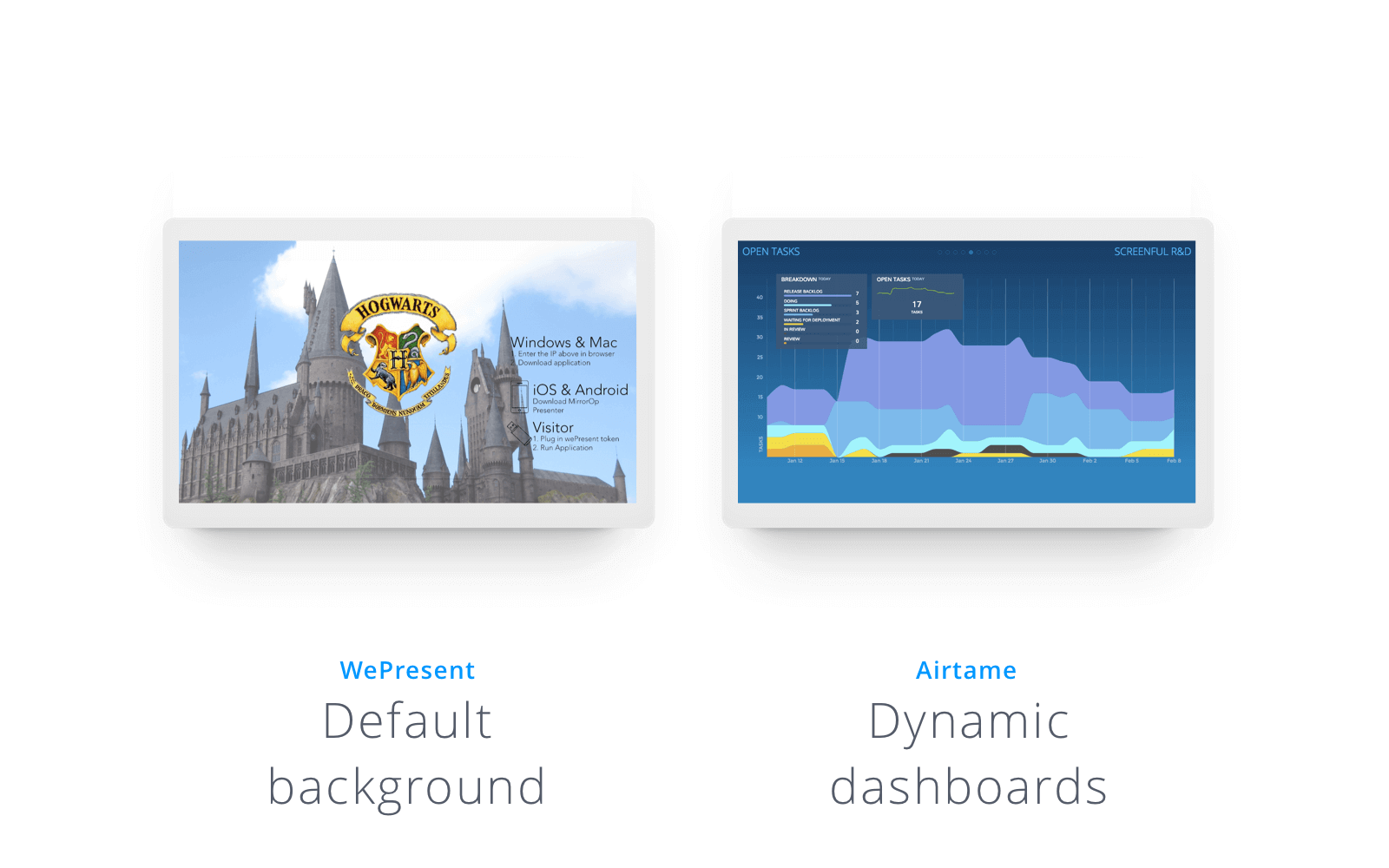 Bottom Line
wePresent is best for presenting that requires you to moderate presenters. The more features you want, the more you pay. If you need a device that supports touch and mouse input with interactive whiteboards or if mobile mirroring on Android devices is essential to your work, this device might fit your needs.
Airtame is a scalable solution because of its one-time cost and flexibility. Its compact size makes it ideal for the presenter-on-the-go. If you're looking for an affordable option offering easy streaming, presenting options, and multiple device management from the Cloud, Airtame is the device you're looking for.
Check out our other comparison articles:
We aim to be as objective as we can in this article to give a fair comparison between wePresent and Airtame.